Health, Safety & Environment (HS&E)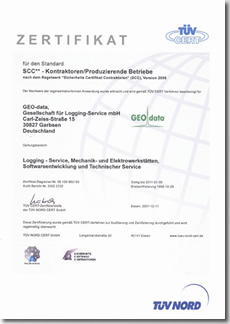 GEO-data fulfills all relevant standards and implemented its own company specific standards in order to provide a healthy, environment-friendly and technical safe working place. For ten (10) years GEO-data is SCC certified. This represents ten successful years of H S&E- work. Only through consequent pursuit and realization of the HS&E- principles, was this excellently good safety service achievable. The management set itself to continuously aim for improvement in the HS&E- field, to sensitize all workers and to ensure a steady spreading of this attitude. Health-, safety- and environmental protection have to be constantly brought to mind- the mind of others and the own one.
Values & principles:
Health:
Revealing and eliminating risks to health that occur in connection with business activities which present a potential danger for the employees, for persons of other companies involved in the work or the public.

Inventing regular programs and appropriate safety measures that help to control and minimize the risks.

Discovering, in the required framework, whether the employees are medically healthy and if they are able to do their work without inappropriate risks for themselves and others. This can be done by medical examinations at the recruitment and afterwards.

Ensuring a health care which is necessary for the treatment of employees with occupational diseases and industrial injuries as well as for the handling of medical emergencies.

The consumption of alcohol or drugs as well as the abuse of medication at the workplace is strictly prohibited for the employees of the GEO-data GmbH.
Safety:
First priority is given to the prevention of personal- and property damage of our employees and, likewise, to ensure safety towards third parties.

No work is as important as that it may be done to the account of safety.

All equipment has to be serviced and used in a way that ensures the protection of persons and things.

All accidents are avoidable when the work is beforehand cautiously thought out, certainly planned and cautiously carried out.
Environment:
If no corresponding regulations exist, stick to all applicable environmental rules and instructions. Moreover, appropriate standards have to be applied.

Encourage care and respect for the environment and emphasize every employee's individual responsibility for the protection of the environment.

Business has to be done with the aim of avoiding accidents, emissions and wastes beneath harmful limits. Factory equipments have to be built, operated and serviced according to these regulations.

All employees should be sensitized for a safety, ecoconscious working for themselves and third parties.
OUR HS&E GOALS:
SAFETY FIRST!
NO ONE GETS HURT!
OUR GOAL FOR THIS YEAR: "ZERO" ACCIDENTS!