GEOCalcit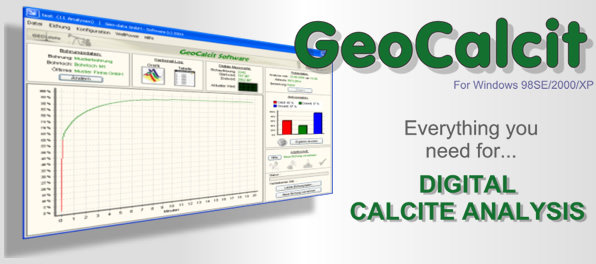 GEOCalcit Software:
The program GEOCalcit was developed particularly for carbonate analyses of Cuttings. The software supports you with high performance and well-thought functions during the carbonate analyses. It will estimate the contents of calcite and dolomite of your sample and will calculate total carbonate content. Subsequently, extensive functions for data storage, printing and visualization are at your hand.
Measuring Principle:
The different reaction time of calcite (fast reaction) and dolomite (slow reaction) when brought into contact with 10% hydrochloric acid (HCL) will be registered and evaluated. The reaction runs in a closed container (glas vial) and the development of CO2 and the thus resulting pressure increase is detected and re-calculated by GEOCalcit to the content of calcite (CaCO3) and dolomite (CaMg [CO3]2). The accuracy will be maintained by a comparison measurement of a sample with pure CaCO3. This comparative measurement is stored inside the software and is valid for many measurement.
Features

Carbonate content estimation of cuttings

Tabular Carbonate-Log

Graphical Carbonate-Log

Easy and intuitive handling

Graphical wizard of the procedure

Integrated helpfunction

Data Exporting

System requirements*

Pentium 700 MHz or higher

Windows 98 SE/2000/XP/Vista/7

128 MB RAM

Screen resolution>= higher than 800 x 600 Pixel

Com Port, USB port


4 MB HDD Space
*plus Resultfiles
Screenshots:
| | | |
| --- | --- | --- |
| | | |
| pic 1: Mainscreen | pic 2: Log (Table) | pic 3: Log (Graphic) |