Special designed and customized software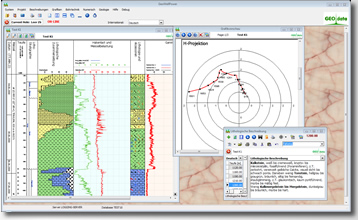 All drilling technical programs offered by GEO-data are network compatible. A user management system protects the system from unauthorized access to confidential data. The software can be employed either at the rig or at the clients' central offices. As a rule, all applications contain export functions for files formatted in MS-Word, Excel, ASCII or dBase. External data can also be recorded online in the WITS or ASCII format.
The applications are designed for computers with MS-DOS or Microsoft Windows operating systems. As a result of further developments and adaptation to specific customer requirements, our software is guaranteed to remain fully up to date and our products are continuously improved.
This email address is being protected from spambots. You need JavaScript enabled to view it.