Safeguard for toxic and flamable gases
A great hazard while drilling is the occurrence and emergence of explosive or toxic gas. It is our task to supervise the occurrence of danger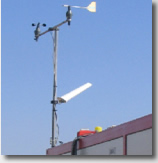 ous gases at all time as well as give alarm if necessary. This way appropriate safeguards can be made in critical situations.
To guarantee gas security and to recognize oil and gas indications precisely, the following equipment have been developed by the GEO-data Group:
Gases that are carried along with the mud are degassed by a constant volume degasser and examined for hydrocarbons in the field-laboratory. Besides the analysis of total hydrocarbons with the help of GC-FID or infra-red spectroscopic there is also a single substance analysis (C1 – nC5) available. This analysis is done with the help of a high speed GC chromatograph with cycle times from 30 to 90 seconds and stripping at the same time.

Other gases like oxygen, hydrogen, nitrogen and carbon monoxide are detected by a GC-TCD.

Explosive-proof gas sensors (H2S) and the LEL (lower explosion limit) of hydrocarbons are relevant for safety at the drilling site. These installed sensors are connected to internal and external alarms by the drilling monitoring system.

The permanent surveillance of the wind direction and speed enables the drilling team to chose the correct escape route if there is an emergency.