Drilling Monitoring System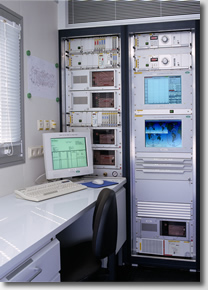 Since 1978 GEO-data offers user-friendly software for the industry in the hydrocarbon-exploration which goes beyond the classical Formation-Logging Services. From the start, an open, modularly designed system for the measurement data logging, processing, transfer, archiving, and visualization has been developed. Automatically (by sensors) or manually gained data, geological and drill technical data, cementation as well as MWD data can be exchanged on the well site between connected work-stations of various departments in only one system. Furthermore, offline or online connections with the client are available via modem (SAT, digital phone line, etc...).
The Drilling Monitoring System (DMS) of GEO-data offers:
With GEOWellData™ acquisition of all data measured at a rig site in data files for 2 seconds, 2 minute and depth-dependent each 20cm.

Editing of automatically or manually entered data into "easy-to-use" graphical illustrations

With GEOWellView™ a user-friendly, freely configurable visualization of all data in real-time for all users at the well site and (with data communication) into the clienst office

With GEOWellPower™ a user-friendly, freely configurable database as depth-dependent Masterlog, Gaslog, Techniclog, MWD-Log, etc.

With GEOTally™ a user-friendly input and illustration of the drill strands and the pipe work

With GEOSurvey™ an illustration of the vertical and horizontal progress of the wellbore


With GEOWellControl™ calculations and graphical illustrations of the hydraulics and the pressure reaction for Kick control, pressure prognoses, etc.

With GEOWellReport™ a program for reports and cost estimating for all operations that arise at the well site

With GEOFlow Hydraulic™ Real-Time hydraulic calculations, Swab & Surge, pressure losses, bit optimization

The immediate information of all decision makers at the well site and in the company headquarter, through the user-friendly and graphically clear Drill Monitoring System, allows an essential project optimization in regard to safety and optimization of costs. A processing of all data into other programs is guaranteed through powerful export functions. Printouts of all data and graphics as well as plots of depth-dependent logs are possible at any time. The gapless documentation of all data, which will be provided on CD/DVD for the client after the conclusion of the well, allows a subsequent evaluation and optimization for future projects.